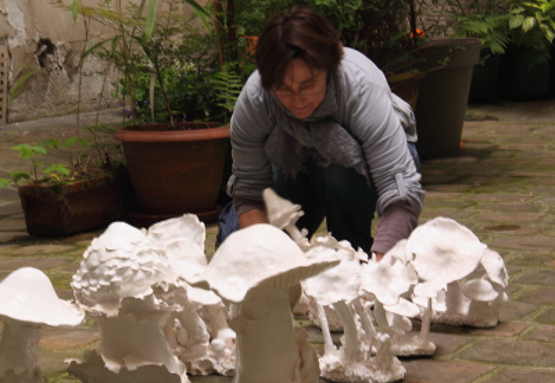 Born in 1967 in Bagnols sur Cèze in the Gard region - France. Lives and works in Lyon and Sabran (south of France).
1988: Training in photography laboratory reports and personal works
2002-2006: Training cycles at « Les Arts Decoratifs - Paris»: drawing, nude, and watercolor. Work in the studio of Claire Naudot, painting.
2007: Learning earth and enamels techniques
2010 and 2011: Exhibitions at the "Carré des Arts" (Paris)
2012: Creation of the workshop « Atelier de la Source » (Paris)
2014: Received within the Taylor Foundation
2015: Creates a new workshop in Sabran (south of France)
2016: Biennale of Laudun, solo exhibition "Tribute to Albert André"
2017: Exhibitions in Paris, Orléans, Bellême, Jouy le Potier, Tresques, Pont Saint Esprit, Lyon;
Finalist of the International Ceramics Art Award "Blanc de Chine";
"The maritim silk roads"curator Jean-Paul Desroches, Lyon;
2018: Exhibitions in Paris, Orléans, Saint Jean le Blanc, Lyon;
Member of "Ateliers d'Art de France"
Creates of her own show-room in Lyon
Exhibitions
2013:
« Les Hivernales » - Montreuil, France
AREA Gallery - Paris
2014:
Solo exhibition: « La tour de Guet » - Tresques, France
Colors of Velsen 2014, Saarbrücken, Germany
« 240 memories messengers », Museum of Andenne, Belgium
« It is time to ... », Dieppe, France
Festival of Contemporary Art, Tresques, France
City Gallery of Forbach, France
« L'ArtO'contemporain », Orléans, France
2015:
« Rencontre », Bagnols sur Cèze, Art Center. Exhibition curated by the artist with two painters
Sculpture Biennale of Saint-Ambroix, France
Colors of Velsen 2015, Saarbrücken, Germany
Campo Santo exhibition, Orléans
Permanente exhibition in "L'art en tête" gallery, La Ferté Imbault
2016 :
Exhibition "Jardin des arts", Orléans
Contemporary Arts Biennale, House of the painter Albert André, Laudun
Solo exhibition and installation, tribute to Albert André and Auguste Renoir, Laudun
Exhibition "Blessures", centenial 14/18, Pont Saint Esprit
Campo Santo exhibition, Orléans
Gallery "l'Art en tête", La Ferté Imbault
2017:
Gallery Christiane Peugeot, Paris
Gallery Laurent Potier, Vendôme
Gallery "La tour de Guet", Tresques
"Magic", Exhibition in Montour les Buttes
Art and Heritage , Bellême
Les Tupiniers du vieux Lyon, Lyon
Contemporary sacred Arts Biennale, Lyon
Gallery "l'Art en tête", La Ferté Imbault
Campo Santo exhibition, Orléans
"The maritim silk roads", curator Jean-Paul Desroches, Lyon
2018:
City castle, Saint Jean le Blanc
Gallery Benoit Vieubled, Orléans
Gallery "Talent Etoile", Paris
Gallery "La compagnie" , Saint Etienne - la Fouillouse
Gallery "l'Art en tête", La Ferté Imbault
Villa Les Terrasses, Amadeaus Guest house , La Seyne sur mer
Les Tupiniers du vieux Lyon, Lyon
Show room Florence Corbi, Lyon